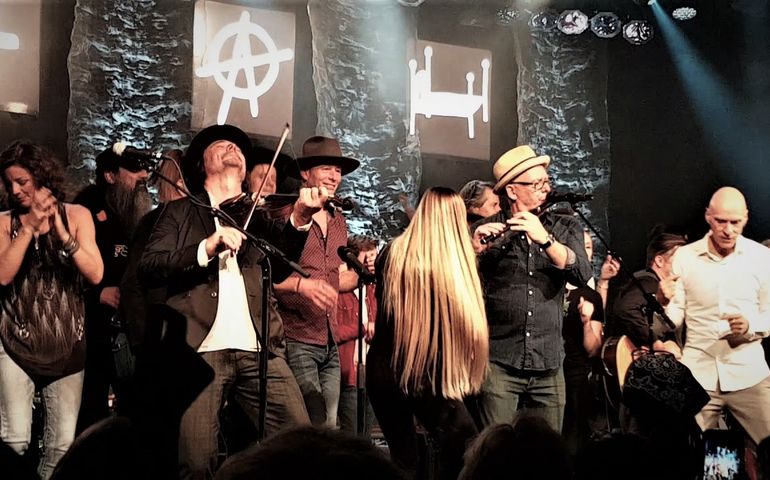 Originally written Jan. 9, 2018. Updated Jan. 9, 2022
I'm a sap for the most part. It doesn't take much to start the waterworks; sometimes it's just a few words, sometimes it's a perfectly written letter and sometimes it's a song. This song took a few replays but eventually the all-star version of "Home for a Rest" had me smiling around the tracks of my tears.
But maybe not for the reason you'd think.
John Mann, was the lead singer and one of the songwriters for Spirit of the West. He co-wrote "Home for a Rest." In 2013, John was diagnosed with early onset Alzheimer's. He died on November 20, 2019 at 57. Whenever I watch the documentary about his journey called "Spirit Unforgettable" I'm a puddle. It culminates with John's final concert, recorded at Massey Hall. Throughout the film, we watch mournfully as John's memories – his life – are erased by this horrible disease. Despite that, you can't help but see the positive and poignant effect that playing and singing music had on him.
In 2017, when Alan Doyle posted a video of "Home for a Rest" on social media, I knew it would be difficult to watch. The video was from a benefit concert for John at The Commodore Ballroom in Vancouver and it included many of John's musical friends singing his signature song. I remember, when I sat down to watch this, I was prepared to be sad but surprisingly, I didn't cry right away. Instead, I found myself smiling and as soon as it finished, I teed it up again; still no tears. Something was compelling me to watch it again and again and as I did, I was bombarded by memories. It took me all the way back to May 1, 1985 and my short time at Kingston radio station, CKLC. I can vividly recall the palpable anticipation in the station as we awaited the delivery of "Tears Are Not Enough", the all star Canadian answer to "We are the World". I was working production that day and it was my job to transfer the record to a "cart" – essentially an 8-track tape that we used to broadcast music in those days. I put the song on the cart and ran it into the studio for Jim Elyot who introduced the song and played it for the rest of Kingston. It was the first time I remember feeling as if I was part of something that would help someone in need and help them through music.
Since those days, I've given a lot of my time to Light of Day, a cause that uses music to raise money and awareness about Parkinson's disease. Ginette and I are proud to be a small part of helping to raise hundreds of thousands of dollars for people suffering with this progressive and incurable illness. Along the way, we've gained a second family of like-minded souls. Normally at this time of year, we'd be getting ready to return to Asbury Park for Light of Day's Winterfest. It's a time for us to hang out with hundreds of very cool people, see dozens of bands, sing until we're hoarse and renew ourselves with a sense that together, as a group we're making a difference with music.
Watching "Home for a Rest" reminded me once again that music can do more than excite or motivate, it can engage and involve and it at its best, it can even help to heal the hatred and division that has raged across North America over the last few years.
In case you are still uncertain about humanity after watching this video can I suggest a couple of solutions? Watch it again and if that doesn't work, watch it again. I guarantee that you'll eventually notice several things. First of all, it's a great song full of some of Canada's brightest musical lights. Then you'll see that the Spirit of music is alive and well in so many familiar faces and voices. Finally, if you're like me, you'll watch John Mann in his billowy white shirt and see that he's not just dancing. He's feeling something bigger than himself; something bigger than the crowd of musicians or the sold out audience. He's absorbing thousands of voices that are singing with him and to him and he's translating that into pure, unadulterated joy.
Ultimately, that was what brought me to tears and probably will the next 30 times I watch it. I hope you cry too and then I hope you donate to something. Help the Baycrest Foundation, an organization that John and his wife Jill supported. Help Light of Day an organization that's been hit hard by COVID. Help the local band that's lost all their bookings but who are still striving to raise some dough and sell a record. Help others to feel the music and feel the Spirit. In the end, you'll be helping yourself to feel the strength, the soul, and ultimately, the power within the music.

WATCH "HOME FOR A REST"
https://www.youtube.com/watch?v=_wY3DfQ2EUk